Find Out Which Ford Cars Are AWD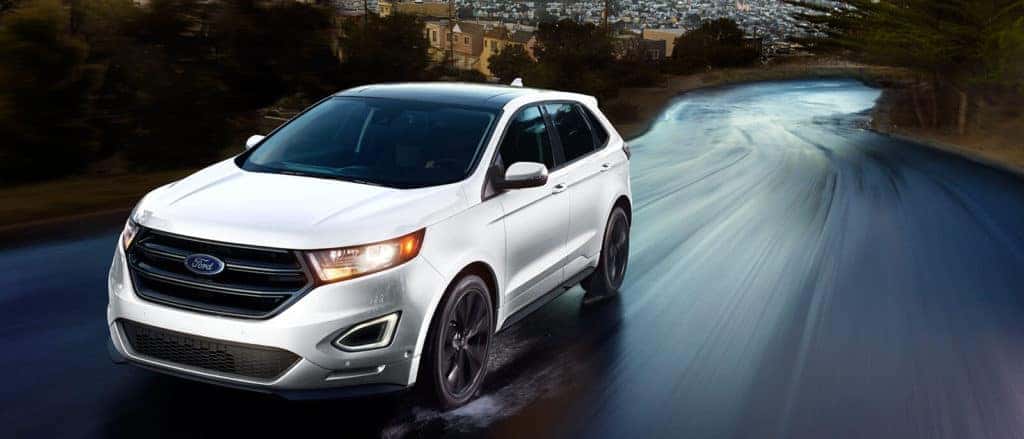 The following Ford cars are AWD (or 4WD):
2017 Ford Focus: AWD isn't just for SUVs and trucks – try it on a sedan too!

2017 Ford Fusion: Get AWD support with the Titanium trim level.

2017 Ford Taurus: Get AWD with SEL and Limited trim levels.

2017 Ford Escape: Available Intelligent 4WD system.

2017 Ford Edge: Comes standard on SE base trim level.

2017 Ford Flex: AWD available on SEL and Limited.

2017 Ford Explorer: Available on Sport and Platinum.

2017 Ford Expedition: Available standard.

2017 Ford F-150: Available standard.

2017 Ford Super Duty: Available standard.
Choosing an AWD Vehicle vs. FWD
An AWD vehicle offers improved handling and control, especially in slippery conditions. If you need the extra maneuverability that AWD offers, then you'll want to invest in a quality Ford AWD car.
Ford Special Incentives
At Glenwood Springs Ford, you'll find great deals, including special offers for university students, first responders, active military personnel, veterans of the armed forces, and individuals with disabilities. Read on to learn more about the great offers we have available for current college students!
Ford Drives U
Ford Drives U is a special program for hard-working college students who need some extra cash to afford their next vehicle. The Ford Drives U program offers $500 bonus cash towards a new Ford vehicle purchase or lease.
Ford Truck Specials at Glenwood Springs Ford
Ford trucks have powered countless businesses over the last few decades. With vehicles like the Ford F-150 and F-350, you can get the job done in record time. At Glenwood Springs Ford, we offer a variety of Ford Truck specials that can help you to afford the right truck for your business and ensure you get the best possible deal.
Test Drive Your Preferred Ford at Glenwood Springs Ford Today!
The ideal way to see which Ford vehicle is right for your needs is to visit us today at Glenwood Springs Ford and take them each for a test drive. We hope to see you at the dealership soon!