How Often Should You Rotate Your Tires?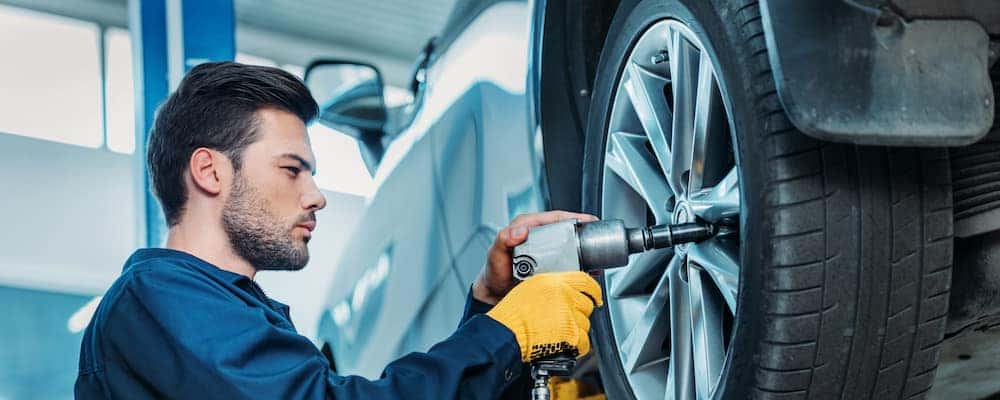 Knowing when to rotate your tires is crucial for them to last as long as possible. A good rule of thumb to follow is getting a tire rotation between every 5,000 to 7,500 miles. However, there are many factors at play that may influence how often you should rotate your tires. For more information, peruse this guide from Glenwood Springs Ford, your trusted service center in the Rifle area.
Tire Rotations: FWD and RWD Vehicles
Front-wheel drive means the engine sends power to the front two wheels, whereas rear-wheel drive indicates power sent to the back two wheels. When it comes to tire health, those that are getting the most power tend to wear faster. Keep these tire rotation tips in mind for your FWD or RWD vehicle:
Check your owner's manual for exact mileage, but FWD or RWD vehicles typically need a tire rotation every 5,000 to 7,500 miles.
Grand Junction-area drivers who choose to perform a tire rotation at home on their FWD vehicle should remember to flip sides when moving the rear tires. This means the rear right tire will go to the front left, and the back left tire will go to the front right. However, the front tires being moved to the back should remain on the same side they started on.
At-home RWD tire rotations require the same process as above, but opposite. That means the front tires should flip sides when moving to the rear, but the rear tires should remain on the same side they started on when moving to the front.
Remember the impact of your driving habits. Off-roading, for example, may require more frequent tire rotations. Consult the technicians at Glenwood Springs Ford for more accurate recommendations.
Tire Rotations: AWD Vehicles
Wondering how many miles to rotate tires on an AWD vehicle? The timeline generally is between 3,000 and 5,000 miles, as each tire wears differently and at different rates. Your owner's manual will include more exact numbers for your specific model. When in doubt, though, simply schedule service with Glenwood Springs Ford and we'll inspect your tires for signs of significant wear.
Purpose of Tire Rotations
Of course, routine tire rotations extend your tires' lifespan, but they also enhance your drives around Denver in other ways, including:
Improved traction on slippery roads
Less road noise
Relief for the drivetrain from unnecessary stress
What's more, regular tire rotations ensure that you're better prepared for hazardous weather. It's important to note, too, that tire rotations don't keep your tires running forever. When it comes time for replacements, use our Tire Finder for some guidance!
Seek Tire Tips From Glenwood Springs Ford
For any information regarding tire care, get in touch with Glenwood Springs Ford today!. Our certified technicians are always standing by to help answer your questions and provide solutions.
Service Specials From Glenwood Springs Ford
Lifetime Brake Pad Guarantee
*Some Exclusions Apply. Contact Dealer For Details.
Glenwood Springs Ford
55 Storm King Rd, Glenwood Springs, CO
Service: 970-945-2317
Lifetime Brake Pad Guarantee
Expires:
Glenwood Springs Ford
55 Storm King Rd, Glenwood Springs, CO
Service: 970-945-2317
Expires: