Glenwood Springs Community Involvement
Glenwood Springs Community Involvement
Our team at Glenwood Springs Ford understands the importance of community and giving back. While we're committed to providing our community with auto services and an inventory of exceptional vehicles, including the award-winning Ford F-150, we know that making an impact on Glenwood Springs citizens also means supporting important causes. From high school fundraisers to 5k events, we've show our support for our community from Grand Junction to Eagle for over 40 years.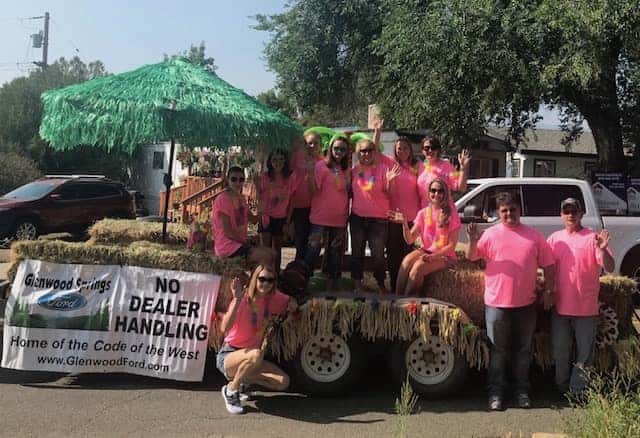 Glenwood Springs Community Nonprofits
At Glenwood Springs Ford, we're involved in several community nonprofits:
Compass-Carbondale Community School
Cole Ridge High School Baseball
River Bridge
RMEF – Rocky Mountain Elk Foundation – Flat Tops Chapter
Ducks Unlimited – Crystal River Chapter
SBST – Sopris Baracuda Swim Team
Frontier Historical Society
Rifle Chamber
Glenwood Springs High
RMEF – Roaring Fork Chapter
Nami RFV
Iglesia Cristo La Roca
Rifle Snowmobile Club
Glenwood Springs Summer of Music
Aspen Glen Hole sponsor – ALS TDI Classic Golf
Rifle Snowmobile Club
Aspen Rotary-Ducky Derby
2FCF – GlenX
Glenwood Springs Highschool Corp Sponsor
GWS Ladies Gold Club
Meeker Classic
Roaring Ford Ranch Roping
Club Rotario – Festa las america
Crawlin' 2 a Cure
City of Glenwood Springs
Glenwood Springs Wrestling
Eagle Scouts Troop 225
Youthzone – Ascent 5k Run
Wind Walkers
POE Chapter AO
Hospice of Valley/Homecare
Glenwood Springs Historical Society
Advocate Safehouse Project
GSHS Mock Trial Program
If you have any questions about our involvement in the above community nonprofits, would like information on hiking in the area, or want to inquire about our auto services, contact us at Glenwood Springs Ford!
See Our Community Support in Action
Glenwood Springs Ford supports Garfield County Fair
---
Glenwood Springs Ford supports local 4-H programs
---
Glenwood Springs High School Ford Focus winner