Best Pizza Restaurants in Steamboat Springs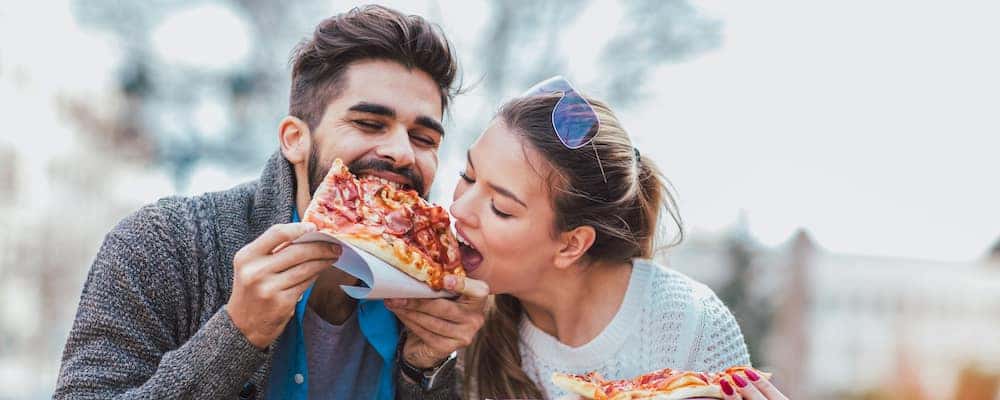 With so many new Ford models to choose from, choosing your favorite could take a while. So, why not stop by one of our favorite Steamboat Springs pizza places and grab a bite of something delicious before you schedule your Rifle area test drive on an empty stomach?
Mazzola's Italian Diner
A favorite of Grand Junction diners who want a relaxed, casual atmosphere and great food. Mazzola's offers a wide range of options for those with special diets, including vegan dishes, gluten-free, and vegetarian selections. If you aren't in the mood for pizza, give the Bison lasagna a try – we hear it's great!
Location: 917 Lincoln Ave., Hotel Bristol, Steamboat Springs, CO
Mountain Tap Brewery
A delightful craft brewery that serves up a rotating selection of small-batch brews and some of the best pizza from Denver to Montrose. Locals love the outdoor seating and wood-fired flavor, plus the chance to support their favorite non-profits on Token Tuesday.
Location: 910 Yampa Street, Steamboat Springs, CO
Cugino's Pizzeria and Italian Restaurant
Twice awarded Trip Advisor's Certificate of Excellence, Cugino's delivers tasty pizza, stromboli, and so much more. Locals recommend the mussels when in season and, if you prefer not to feed the masses, the personal pizzas, just right for one.
Location: 41 8th St., Steamboat Springs, CO
Mambo Italiano
Almost as much fun as the song of the same name, Mambo Italiano features a wide range of delicious treats, including chef-inspired brick oven pizzas, light, fluffy Tiramisu, and of course, a wide array of wines to pair with your entrée selection. Drop by at happy hour for special pricing and choose an outdoor table for an excellent people-watching experience.
Location: 521 Lincoln Ave, Steamboat Springs, CO
Blue Sage Pizza and Bakery
Informal dining at its finest, Blue Sage offers up pizza for delivery, take-out, or if you choose, dining in. Grab a calzone to nosh at home or pick up a monster pizza for your crew and head out to Steamboat Springs to hit the trails and work off the carbs.
Location: 685 Market Plz., Steamboat Springs, CO
We Love Our Customers!
Grab a pie in your new Ford vehicle or check out our other city pages to learn more about finding excellent Italian food in Denver or where in Glenwood Springs you can get the best breakfast to start your day. While you're at it, check out our favorite date spots in Glenwood Springs, head out on a hike, or plan a visit to the otherworldly Vapor Caves.
More Things to do Near Glenwood Springs
Whether you're in a new relationship or you've been married for years, it can be hard to come up with new and exciting date nights! If you find yourself in this position, you're in luck, because Glenwood Springs Ford is here to bring you some fresh date night ideas for Glenwood Springs. Contact Us Glenwood Springs, CO…

With so many new Ford models to choose from, choosing your favorite could take a while. So, why not stop by one of our favorite Steamboat Springs pizza places and grab a bite of something delicious before you schedule your Rifle area test drive on an empty stomach? Mazzola's Italian Diner A favorite of Grand Junction…

The variety of animal shelters near Glenwood Springs, CO makes it a simple matter to find your new best friend and support a cause that not only improves the quality of life for yourself and your new furry companion but for Grand Junction residents as well. Below we cover three worthy organizations that can help pair…