Introducing the 2017 Ford Super Duty!
2017 Ford Super Duty
Whether you rely on your truck for work or for play, the new 2017 Ford Super Duty provides one of the steadiest, toughest, and most reliable vehicles in the market. Not only does it provide you with the very best in performance and engine power, with some truly distinctive driver assist features and specs, but it also boasts a slew of new design perks and a spectrum of safety devices to keep you and your passengers as safe as can be during drives both long and short. Read on for all the exciting details about the new 2017 Ford Super Duty.
Starting at
$32,535
Engine Power
– Let's begin with what probably matters most in a truck: engine power. Simply put, the Super Duty is going to give you an awful lot of it. For example, the Super Duty can be equipped with a 6.2L gas V8 engine or a Power Stroke Turbo Diesel V8 engine. Both engines are going to promise you absolutely unrivaled horsepower rates. But what is perhaps most exciting is that the Super Duty's 6.7L diesel engine boasts simple unheard of torque, giving drivers 925 lb-ft of torque. What all this torque means is that the Super Duty is going to give you some of the very best pulling power of any vehicle in its class.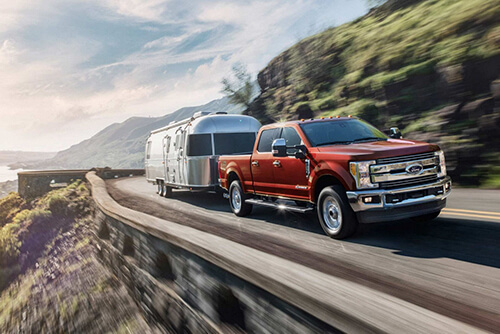 Towing Capability
– Not only does the new Super Duty give you Best-in-Class payload—indeed, by reducing body weight by 350 lbs, Ford has ensured that you'll get as much as 7,6350 pounds, which is the absolute maximum in its class—but this truck can also give you second-to-none towing capability, with its Best-in-Class 5th Wheel/Gooseneck Towing, which work together to boast a conventional towing capability of as much as 21,000 pounds, which is to say, much more than any other heavy-duty truck. What's more, the new Super Duty promises a gross combination weight rating of 41,800 pounds—once again, the very best in its class.
TorqShift G SelectShift 6-Speed Automatic
– Part of the reason that the Super Duty is so powerful and displays such impressive torque has to do with its TorqShift G SelectShift 6-Speed Automatic transmission, which ensures much higher torque rates, much lower rpms, faster power delivery, better shifting, and a better fuel economy. Meanwhile, its 6-speed transmission comes with Progressive Range Select, while its Tow/Haul system prevents upshifting and speeds gains when you're heading down hill, thus reducing brake pressure.
Upgraded Suspensions and Steering
– When you're hauling the heaviest loads off to the new job site, you want to know that you can rely on your truck for absolutely unrivaled suspension and steering. Thankfully, the Super Duty makes that possible with newly designed springs which are fashioned to work together with the Super Duty's other new designs—including its frame and aluminum alloy body—to make this an unbelievably responsive truck.
AdvanceTrac with RSC and Trailer Sway Control
– With AdvanceTrac with RSC and Trailer Sway Control for both dual rear wheel and single rear wheel models, the Ford truck is able to maintain stability, even with a trailer in tow, using gyroscopic sensors and the application of reduced power and selective wheel braking.
Engineered for Extremes
– One of the best-tested vehicles around, the Super Duty has been tested both under real conditions but also in temperatures as low as -120 degree Fahrenheit, as well as in gravel, salt brine, mud baths, dust, and much more. At the same time, Ford was able to replicate cases in which a powertrain would be forced to go up a 6-degree grade for over 500 miles. In each of these cases, the Super Duty outperformed its peers.
High-Strength, Military-Grade Aluminum Alloy Body
– With its High-Strength, Military-Grade Aluminum Alloy Body, which makes this truck much lighter than previous models even while it preserves its substantial strength, the Super Duty proves even more dent-resistant than ever while also ensuring that it's safe from rust corrosion. All in all, the Super Duty's new design makes one of the toughest and highest-performing trucks on the market.
Fully Boxed High-Strength Steel Frame
– Built of over 95 percent high-strength steel and utilizing up to 10 cross-members, the Super Duty's Fully Boxed High-Strength Steel Frame is 24 time stiffer than its previous frame. What this means in practice is that the new Super Duty minimizes flexing and twisting, even while it can maximize its strength and rigidity, thus enabling it to realize especially high torque levels.
Class-Exclusive 110v/400w AC Inverter Outlet
– You never know what you're going to have to bring to the worksite. Whether you'll need a floodlight, cordless power tool, or something else, the Super Duty will make it possible for you ensure that all your devices remain fully charged with its Class-Exclusive 110v/400w AC Inverter Outlet, which allows you to connect your devices directly to the Super Duty for quick charging capability.
Headlamps and Taillamps
– Moreover, the new Ford Super Duty also features quad dual-beam halogen headlamps, which are class-exclusive and which provide both high and low-beam outputs. Not only that, but the combined four low beams are able to produce more light output than the high beams on all previous Super Duty vehicles. At the same time, the Super Duty gives you optional quad-beam LED headlamps/taillamps which are distinguished by their brightness and durability.
New Cameras
– Many onsite job's require enhanced visibility. Luckily, the new Super Duty provides a few new optional cameras that allow you to extend your lines of vision. These include a new tailgate camera, a high-definition 180/360 degree camera, and a custom-placed rear trailer camera. But you'll also be able to rely on a center high-mount stop lamp camera, which will allow you to view the pickup bed and will prove helpful when you're hooking up to a 5th wheel or a gooseneck hitch.
Six Uplifter Switches
– With the Super Duty's six Uplifter Switches, you'll be able to connect a number of different aftermarket accessories (e.g. lights, strobes, winches, and so on) to the Super Duty's electrical system. Moreover, the new switches are integrated into the new overhead console, and include two 40-amp switches (enabling you to turn the ignition on or off) and four 25amp switches (allowing you to turn the ignition on).
Class Exclusive BLIS with Cross-Traffic Alert and Trailer Tow
– The Super Duty's Class Exclusive BLIS system allows you to keep an eye on your blind spot, enabling you to keep abreast of developments on the road and be warned when another vehicle has entered your blind spot. Cross-Traffic Alert, meanwhile, is able to warn you when another vehicle is about to cross your path from behind, making to possible for you to back out of the work site easily and safely.
Lane Departure Warning
– With Lane Departure Warning, your Super Duty can indicate to you when you've begun to drift from one lane to another on the highway, helping to secure you and others from danger by preventing highway drift. This is especially valuable when you're driving with a trailer in tow, or handling heavy and potentially destabilizing loads.
Adaptive Cruise Control with Collision Warning/Brake Support
– Not only will the new Super Duty help you maintain the right speeds on the highway with its Adaptive Cruise Control device, which is able to survey the speeds of cars around you and set its speed accordingly, but it will also notify you when a collision seems imminent and even provide the brake support you might need to prevent it. This will allow you t rest assured that you're going to able to avoid dangers both at the site and on the road.
Braking
– While we're on the subject, the Super Duty provides some simply unbeatable braking systems, including 4-wheel anti-locking brakes, which are the largest in its class, as well as upgraded diesel engine-exhaust braking and a series of other brakes to ensure maximal responsiveness in the new Super Duty. It's probably superfluous why this matters so much, but one thing worth pointing out is that the latter os these two systems will give you enhanced downhill braking with the simple push of a button.
Stronger Axles
– Just like its steel frame, the Super Duty's axles are the strongest they have ever been. In practice, this translates into an ability to bear much more weight than ever, thereby improving performance and ensuring increased payload and towing capacities, However, it also helps augment the Super Duty's safety, too, letting you rest assured that your wheels are never going to give out when you need them most.
Class-Exclusive Tire Pressure Monitoring System
– With the Super Duty's Tire Pressure Monitoring device, you'll be able to get updates on the status of your tires without ever having to take step outside of the cabin. Simply take a quick glance at the Super Duty's in-dash display and you'll be able to determine just how air is in your truck's tires and whether you'll need to stop by a gas station for a quick fill-up.